Skip to content
Software That Makes Your Camp the Best It Can Be
Campwise is robust, flexible, innovative, and user-friendly camp management software for summer camps and conference centers
Request Info/Demo
Campwise Software Is Your All-In-One Solution
⦿
Common Records
Provides one record for one person and with infinite history. Tracks a record from prospect to camper, staff, donor, parent, etc. All with one record and without duplicate data entry.
Learn More...
⦿
Camp Management & Registration
Manage all your camp registration events with this component. It works for an individual registration as well as for group/family registrations. Other functions include finance, housing/grouping, transportation, and activity scheduling. Learn More...
⦿
Staff Management
Manage the entire summer staff hiring process with this component. The process begins with online staff applications and continues with the collection of references. Learn More...
⦿
Conference / Retreats
Manage your guest groups and facility rentals with this component. Manage reservations for facilities, food services, and other resources by organization and event.
Learn More...
⦿
Donor Management
Manage your fund raising functions, online giving, campaign management, relationship and volunteer tracking, contact management, and customizable receipt/thank you letters.
Learn More...
⦿
POS (Point of Sale)
Includes ability to track camp store purchases to a camper's account and walk-in purchases. Has full inventory control features. Unlimited devices can be used to facilitate quicker checkouts. Learn More...
⦿
Mobile Apps
We offer several mobile device based components that are geared towards specific use on smartphones and tablets. Allows staff to handle various tasks from outside the confines of an office setting. Learn More...
⦿
MROC
Multiple Registrations, One Charge. This feature allows for versatility when registering groups of individuals. For situations like family camps, retreats, or where a group leader needs to sign up and pay for individuals. Learn More...
⦿
Secure Payments
Our real-time payment processing for both credit cards and e-Checks is PCI Level 1 compliant. Credit card and e-Check info is not stored in the Campwise database.
"
The Campwise Check-in App was a game changer for us. Check-in used to be the most stressful time of the camp experience. Now we check-in nearly 300 campers in 30 minutes or less while also taking care of all the necessary paperwork. Every week a parent comments that our check-in process is the best they have ever experienced.
– Jim Newberry, Director of Camps
YOUTHFRONT

With the Campwise Medical App our nurses no longer have to work until midnight or longer on check-in days.
– David Campbell, Executive Director
CAMP ALL SAINTS
Keep things running smoothly with these powerful features

Easy & Secure
Browser-based software creates a familiar, comfortable environment for users.

Easy to learn navigation with extensive on-line help available.

Ability to secure access to Campwise components and screens by user.

Flexibility
Customizable Forms that provides you control of the data you collect.

Ability to configure sessions, programs, facilities, forms, codes and more.

Populate the extensive list of code tables with the data that is unique to your organization.

Reporting Tools
Campwise comes with a set of standard reports that can be used as is or customized.

Campwise Report Scheduler™ can be used to schedule reports that will run automatically at specified times.

Backed by outstanding Campwise support.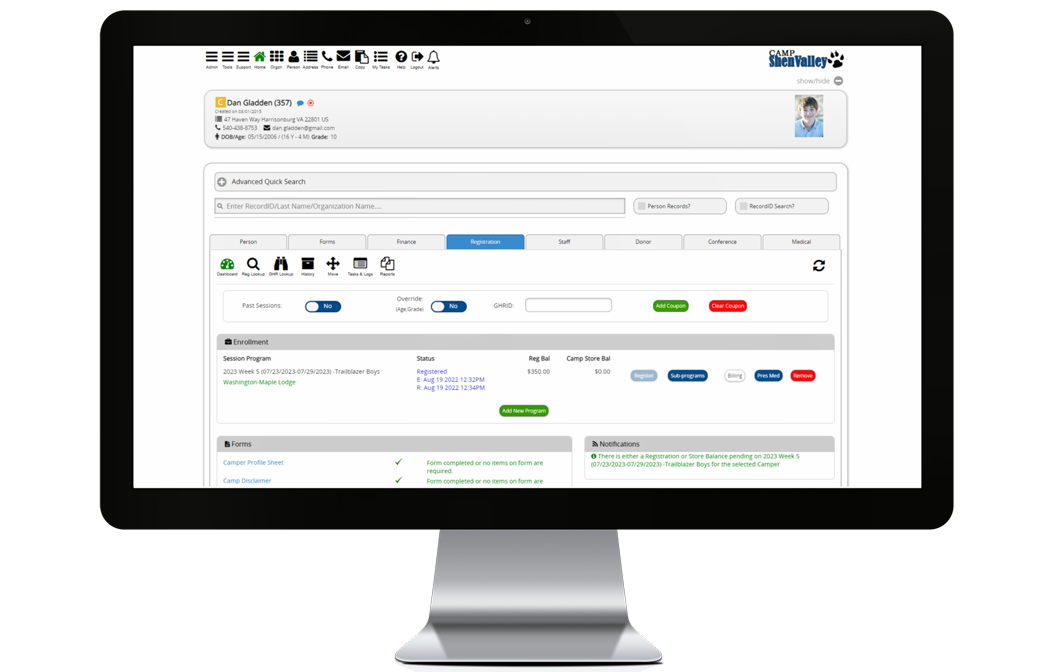 See Campwise for yourself
If you want to see Campwise in action we offer two types of demonstrations. Click the "Request Info/Demo" button to register for a one hour presentation of Campwise. Or if you prefer a private in-depth demo for only your organization, call us at 866.297.7111 and ask to speak to a sales representative.
Request Info/Demo