All the Software You Need to Run Your Camp
Campwise camp and conference center software is the right choice and the only software you need to run your camp. Our proprietary common record database allows you to sync everyone's information into one record for safe storage and ease of record retention.
Cloud-based access allows you to access records from anywhere on any device. No longer run back to camp to check on a registration when you're out at meetings. Simply log in and take care of any issue quickly and efficiently.
Reports and emails can be scheduled using Campwise software which frees up your time to do what you do best: Run your camp.
Campwise prides itself on …

Product: We serve camps, schools and organizations from the small camp to large organizations. Modules include registration, online registration, staff, online staff applications, activity scheduling, transportation, rentals, point of sale and donor and are accessible from tablets, smartphones, MACs and PCs

Service: At Campwise, we love to serve. Service is the very core of what we do. Our mission is to serve you so that, in turn, you can provide outstanding service to your customers
Reporting: Campwise offers an extensive set of standard reports for campers, staff, donor and conference. The Campwise Report Scheduler™ allows you to schedule reports like confirmations, session packets and donor receipts to run automatically whenever it's convenient for you

Technology: Campwise is cloud-based and hardware independent. Responsive design allows Campwise screens to adjust their size to fit mobile devices with real time transactions and security
Affordability: Flexible payment options let you choose a monthly lease or an upfront payment. Buy one component to start and add other components later or purchase them all at once. We will work with you to find the payment option that best suits your camp's needs and budget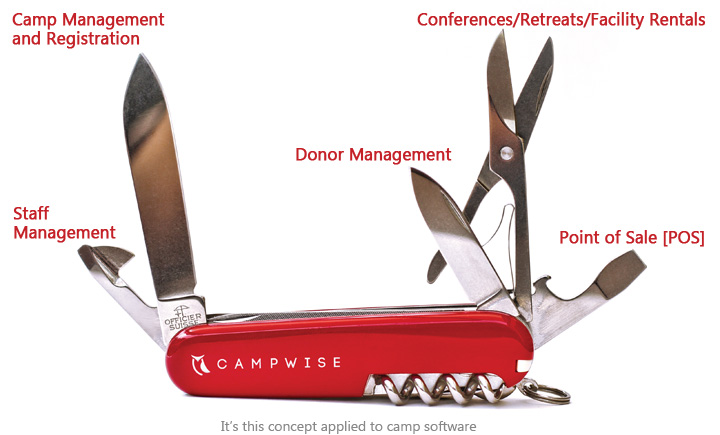 "Helping Make Your Camp the Best It Can Be"