Camp Staff Management
Campwise Proprietary Common Record Software Lets You …
Manage Staff Applications and References for Effortless Hiring
Oversee the entire summer staff hiring process beginning with online staff applications and continuing with the collection of online reference letters. Evaluate the application/reference information by position or session for each applicant and complete the hiring process by issuing a contract.
Prospective staff can complete and submit their applications online. All the information flows directly into the database, no need to re-enter information
Background Checks for staff applicants is integrated into our software with Protect My Ministry

References can also be collected online via the Online Reference Letter feature. Automatic entry of references saves time
Contracts: Create multiple contract types if the camp has different contracts for different types of staff (counselors, administrative, etc.)

Forms: Easily check off when forms are received from each staff member such as I-9, W-2, etc. Create and maintain the options in a table, allowing you to track only the forms specific to your camp
Certifications: For each applicant or staff, track all certifications they hold such as First Aid, CPR, Life guarding, etc. Enter the issuing agency and expiration date for each certification

Reporting Tools: Includes a set of standard reports that can be used as is, or customized to meet your needs. Our Campwise Report Scheduler™ can be used to schedule reports that will run automatically at specified times

Mass Communications: Create mass emails/SMS texts to communicate with campers and camper families, staff, donors and retreat groups

Plus Much More!
Contact us
to find out more about all that Campwise Staff has to offer your camp or organization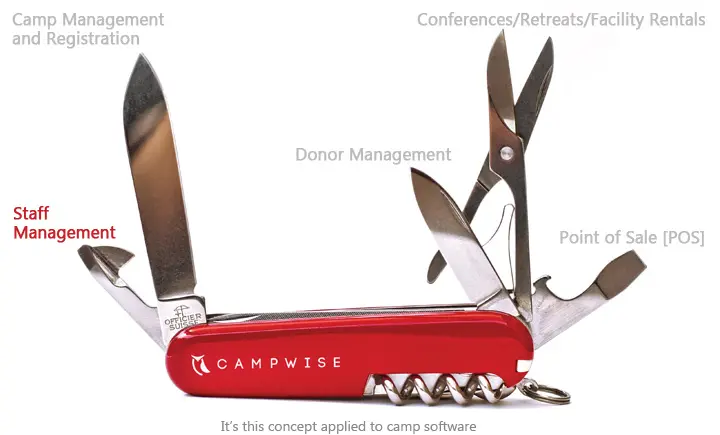 "Always Evolving To Make Your Camp The Best It Can Be"