Conferences | Retreats | Facility Rentals
Campwise Proprietary Common Record Software Lets You …
Coordinate Conferences, Retreats, Facility Rentals to Eliminate Data Entry Headaches
Our conference center software makes it easy to administer your guest groups and facility rentals with this component including reservations for facilities, food services and other resources by organization and event. The open design of this component handles both a la carte and package pricing models.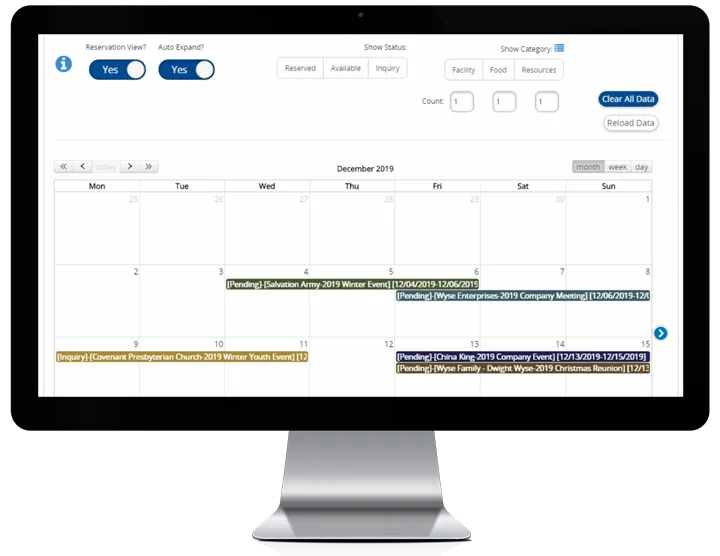 Organization Information: Record and track all required information for an unlimited number of organizations, churches, schools, businesses and families

Event & Item Calendars: View all groups that will be on property on a specific day and what items are reserved for each group

Event Information: Record and maintain detailed information for each event. Create comprehensive records for all events, such as contacts, costs, food services, activities and contracts
Copy or Move: For events and all associated item reservations, copying will create a new event with the same information, allowing users to create re-booking scenarios easily

Secure Payment Processing: Our real-time payment processing for credit cards and e-Checks is PCI Level 1 compliant. Credit card/e-Check info is not stored in the Campwise database

Reporting Tools: Includes a set of standard reports that can be used as is, or customized to meet your needs. Our Campwise Report Scheduler™ can be used to schedule reports that will run automatically at specified times

Mass Communications: Create mass emails/SMS texts to communicate with campers and camper families, staff, donors and retreat groups

Mobile Apps:
Mobile device based components that are geared towards specific use on smartphones and tablets.
Learn more…

Plus Much More!
Contact us
to find out more about all that Campwise Conference has to offer your camp or organization